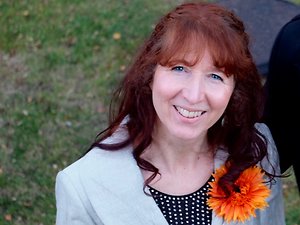 Education
I graduated from the Ludwig Maximillian University's Physiotherapy College in Munich as state registered physiotherapist in 1985, and have become a registered physiotherapist with the HCPC in Britain after our move to Scotland in the Summer of 1995. On application the quality of my original training was found to be equal to the British standards, and so I joined the Chartered Society of Physiotherapy and the Chartered Physios in Private Practice (now Physio First) in January 1996 as a registered member.
You can find more information about physiotherapy in Britain and about our standards and professional code of ethics on the CSP's webpage.
Ongoing education and learning is one of the core standards of registered physiotherapists.

My Credo and Learning
'If life is movement, then movement will enhance life'
These words by the German physiotherapist Dr.med.h.c. Susanne Klein-Vogelbach indicate an intrinsic truth, but as a therapist we should also add that 'the dose makes the remedy...'
I chose to train as a physiotherapist, as it allowed me to assist fellow humans by starting a career in health with a solid foundation training based on science, but also because it uses activitiy, exercise and self-help for patients as main treatment modality. I also felt that it was a perfect starting point to engage with a few more complementary natural therapies, some of which are mainly based on century long experiences about their effectiveness rather than modern scientific research. But this may change as healthcare evolves, and has already done so for acupuncture for example.
I approach my work and my patients with a very open mind, and I am constantly learning from my clients as well, which I am very grateful for.
You may wonder why I offer so many different modalities on this page? Well, this was a very natural progress of development, and 35 years of practice allow for quite a bit of time to learn and to develop different skills. Often my hobbies like Yoga and Circle Dance have integrated into my professional life through instructor training courses.
Lifelong learning is essential as one will never know enough, and I feel that helping others to
find their feet
is the most rewarding job there is, being as a therapist, or as a parent -
Core Skills for a Physiotherapist in Occupational Health and Sports Physiotherapy
My base training in Germany provided me with many techniques in hands-on physiotherapy plus a full training in remedial and Swedish massage. I have complemented this over the years with many courses in manual therapy (including myofascial release and joint and neural mobilisation courses). As occupational health physiotherapist I trained in applied ergonomics and work station assessments, and also fitness to work courses through ACPOHE. I attend regular updates in acupucture, manual handling including 'Moving and Handling' and general physiotherapy conferences.
Please see the list below for further diplomas and instructor certificates, some in the complementary therapy field, and many linked to access body and soul through the feet.


List of Skills
State Registered Physiotherapist (1982-85)
Reflextherapy with Hanne Marquart (foundation (1985, follow up 1986 and specific lymph course 1991)
Metamorphosis Practitioner with Anna Maria Eichmann, (a pupil of Robert St John) 1986
Sivananda Yoga Teacher Training (1988)
Metamorphic Technique Practitioner courses with Gaston St Pierre 1991 and 1992
Registered member of the Allied Health Professions Council (now HCPC) Dec 1995
Member of the Chartered Society of Physiotherapy (CSP) and OCPPP (now Physio First) from January 1996
Manual Handling and Risk Assessment Instructors Course 1998, update 2000, then further updates yearly
Sacred Dance Teacher Training 1999
Metamorphic Technique Teacher Training Course with Gaston-st. Pierre 2002
British Wheel Foundation Yoga Training (2003)
Acupuncture introduction, follow up and electro-acupuncture with BMAS 2007-2009
Diploma in orthopeadic acupuncture with the College of Chinese Medicin (London) 2010