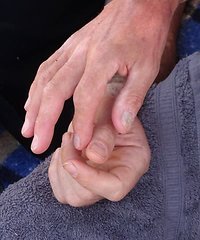 Metamorphosis - A light touch work developed by Robert St.John
Metamorphosis means transformation. In this context it is the name for a specific, very gentle work where a practitioner touches a recipient's feet, hands and head at various specific reflex zones.
It was developed by Robert St John in the 1960s while he was working with children and adults with special needs, but has long become a tool for personal transformation and development of our unique potential, which is inherent in each of us. Various pupils of Robert have found their own ways of working with it, and there are numerous publications about this work.

There is no need to focus on symptoms, and there is no need to give a certain direction, as wherever there is life, there is a chance for transformation and for further development. Our unique direction is already there from our beginning.
We can get a glimpse of this immense reality by witnessing an acorn develop into an oaktree, or a caterpillar into a butterfly-- and in the human realm the development of a zygote into a newborn baby.

And like a seed needs the earth to loosen its shell and to allow it to draw all the nutrients which it needs for its transformation and development, this touch can be for a human (or an animal) the catalyst for further realisation of their potential.
The practitioner might appear indifferent, as they do not take notes or ask many questions, and certainly will not offer answers. This is simply because of the deep respect they share towards the power of life inherent in their clients, and the unique direction and beauty of this special human being. The seed is there already with all its knowledge and all its possibilities.


This space of open acceptance will allow the recipient to draw what they need, so that their own life force and inner intelligence can guide them unhindered towards self realisation. And like in nature this process is totally natural, unconscious, simple and not requiring any effort.
Natural, simple, spontanious, but --- "Who is it for?"
This practice is for all who seek their own true and unique direction in life. It is so easy to learn that parents can apply it to their children, anyone can work on partners and friends or with each other without having to go for regular sessions from a practitioner.
How often did you wish you could just let go of some patterns which seem to repeat and repeat?
Or are you going through a phase of deep change in your life and seek support, but don't want interference?

Why not come to the source? Life within you.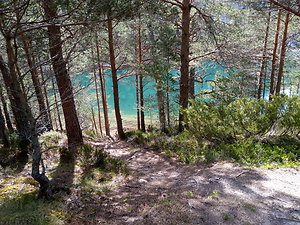 What can be expected?

As no one will look for symptoms, and transformation may happen through totally different ways than expected, anything noticable is possibly secondary to transformation.
Many people have commented on a deep feeling of relaxation after a sessions, but very often it appears to the individual that the outside world is changing, or they may suddenly find a new therapy, or a new flat to live, a new hobby. Some people have felt energised. The outcome cannot be predicted, and equally, the practitoner will not take credit nor responsibility for it.


Trust your life. Spread your wings into the unknown, and let your feet do the landing.
Know that all you can be is already in you -- in potential.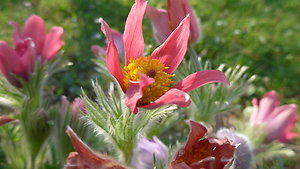 Quote from a client

Should you wish to leave a testimonial here how you experience this touch, please let me know. The space is yours.

What happens in a session?

You can make yourself comfortable either seated or lying down, and will receive a very gentle, but usually not ticklish touch on either foot, both hands and on the head. This is so gentle that it normally does not disturb you (nor your hair) very much. A session usually lasts about an hour to 75 minutes, but can be shorter, if you wish.

If you have an artificial limb one can work over that in the same way, or if you cannot bear touch, the practitioner does not have to touch, but can work with a slight distance.

You can remain silent, chat, or even fall asleep. You can listen to your own music should you wish to do so. For your comfort you can be covered with a blanket, it is your choice.


You can interrupt and finish the session at any time when it does not feel right for you without negative percussions. You are in charge, as your lifeforce is in charge here
Some clients bring their children or partners to be shown how to work with Metamorphosis themselves. Or you can download simple instructions
here
from this page.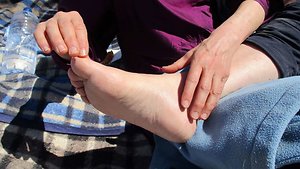 What your practitioner Barbara says about her own path with Metamorphosis
I first learnt Metamorphosis in 1986 from a direct pupil of Robert St.John – Anna Maria Eichmann, and later met Gaston St. Pierre, who worked with Robert in the 1970s. I attended many of his workshops and organised and translated some for him. I have also published an article about the subject in a complementary therapy dictionnairy in 1996. For many years I was a teacher member of the Metamorphic Association, but I have chosen to cancel my membership.

I offer one to one sessions in Metamorphosis, please get in touch by phone or email me to book or if you wish to know more.
I also run regular exchange groups. Please just get in touch, as we currently arrange those per demand.
For my various workshop plans – please click here for up to date information.
Until the pandemic situation has improved I only offer short introductory workshops in Metamorphosis either in a small group or online. It would be useful if you have at least two participants attending from your address, so you can practice in exchange, but some people may prefer to work on themselves alone.
You can click here for your free guide on how to practice.

Professionally, I simply enjoy the balance which this work gives me, as there is 'just' contact, but nothing to ask, nor any advice to give.
Its secret lies in the simple acknowledgment that LIFE is special, and that we are all unique.

Experiencing the desert is an equal amazing experience, and if you are interested in travelling to the Tunesian Sahara desert with Metamorphosis (see picture below), then please get in touch with Ursula at Alternatives Heilen, and search Reisen. Ursula speaks German, English and French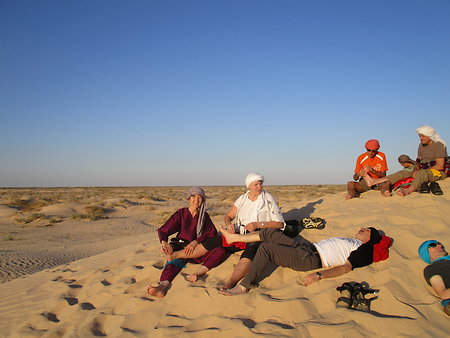 Metamorphosis - lovely to receive and easy to learn
Interested enough to give it a try?
It is impossible to tell in words or to predict, what this work can mean for you once you've had a taste of it. Really, the only way to see, if you like it or not - is to try the practice, the light touch of the practitioner's hands on your feet, hands and head, the touch that can act as a catalyst to let your lifeforce set your own potential free,
like the earth and humidity support the development of a seed into a plant - letting it grow its own way and thus unfolding its unique potential!
You can book sessions in Metamorphosis over the phone or e-mail . Barbara practises in Carrbridge and in Inverness but is also happy to travel, if it is not too far.
Charges are £50-£60 - in Inverness and a session last at least one hour; homevisits according to distance by prior arrangement.
You are invited to attend one of the free exchange evenings in Inverness or Carrbridge. You can meet lovely people there and also get taught how to do the work on others; and you get a session for free that way! Dates are aranged by demand. So please ask.
If you wish to be shown the work and how to share it with your children, who usually benefit immensely, this can be done during a normal session. Parents seem to be the best practitioners for their children.
The problem with 'marketing' this work in our days is its simplicity; it is very difficult to accept and trust something so simple in our constructed and complicated world.
Welcome to a new adventure - your own.
Not in this area? Other practitioners
Jane Stratton (daughter of Audrey Pasternak) has moved to the Scottish Borders and contacted me, as she is hoping to see clients for sessions: This is what she would like to post:

Jane Stratton lives in the Scottish Borders near Kelso. For information on my work or to book a session please either call 07513 170114 or email at mrsjanestratton@gmail.com

Any other practitioners who would like to be listed, please give me a ring and we can organise it through this page.

You can also check out the International Metamorphosis Association for information on other practitioners.